---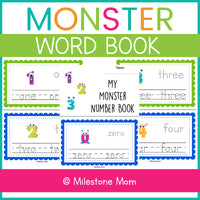 Practice writing and spelling the words for numbers one to ten with this adorable full-color printable booklet template. The illustrations are numbers with eyes, horns, scales, teeth, tails, and antennae so they have become friendly (not scary) monsters! So cute!

Cut on the dotted lines and staple the pages together to make a fun booklet. Or hole punch the pages and use yarn to tie them together instead.
Love monsters? Get the Months of the Year Monsters Coloring & Tracing Book, too!

What's Included in the My Monster Number Book (0-10)
6 PAGES IN ALL | Makes a 12-page booklet.
Purchase Notice
My Monster Number Book (0-10) is an instant
digital
download (PDF); nothing will be mailed.