---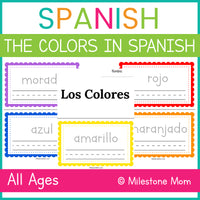 Learn the words for 9 colors in Spanish: yellow, red, orange, pink, green, purple, blue, black and white with this full-color printable booklet template. 
The cover page is blank aside from a simple title Los Colores and a space for a name, so there's plenty of room for decorating with your child's favorite colors. Each subsequent page has a colored, scalloped border that matches the word on the page.  Plus there's room for a child to copy the word before (or after) assembling the pages into a book.
What's Included in the Learn the Colors in Spanish Booklet
5 PRINTABLE PAGES IN ALL
1 black and white cover Los Colores 
9 half-page booklet pages
Purchase Notice
Learn the Colors in Spanish Booklet is an instant
digital
download (PDF); nothing will be mailed.