---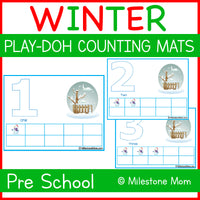 This winter-themed set of printable Play-Doh mats is perfect for a hands-on and pencil-free practice of number recognition and counting for the digits 0 - 10. Count the snowmen and use Play-Doh to represent the quantity and form the shape of the numeral.
If you love this packet, get these counting mats done in the same style:
Directions & Extension Ideas
Make Play-Doh shapes or balls to place on each snowman as you count.
Fill in the large number with Play-Doh. 
Use markers or dot paint to fill in each large number.
Usage Tips
To make the worksheets usable for more than one time, Milestone Mom suggests laminating them.
What's Included in the Winter Play-Doh Counting Mats
11 PAGES IN ALL | Numbers 0 to 10 Play-Doh mats
Purchase Notice
Winter Play-Doh Counting Mats is an instant
digital
download (PDF); nothing will be mailed.